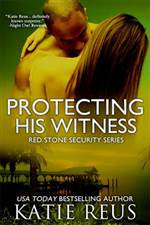 Protecting His Witness
Published :

August 26th 2013
Protecting His Witness (Red Stone Security #7)

Seven years ago she broke his heart…

Leaving Vincent was the hardest thing Jordan Alvarado ever had to do, but she had no choice. Now she's back and looking for forgiveness so she can move on with her life. She doesn't expect the smoldering attraction between them to still be there, burning hotter than ever. After the way she hurt him she knows things will never be the same again and that in the end, she's the one who will get her heart broken when he walks away.

He's not letting her go again…

Former SEAL Vincent Hansen never got over Jordan and the way she up and left him without a trace. After she suddenly reappears and explains what happened, he's even more furious. He doesn't know what he wants from her, but when she's targeted in a series of potentially deadly attacks, he realizes he can't give her up again. He won't. Now he'll do whatever it takes to keep her safe and convince her that she was always meant to be his.