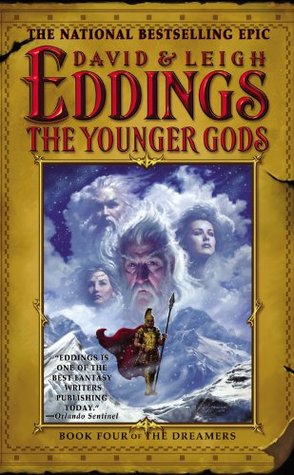 Storyline:
The Barnes & Noble Review
The Younger Gods concludes David and Leigh Eddings' fantasy tetralogy the Dreamers, a four-volume saga that -- with the publication of The Elder Gods in 2003 -- marked the Eddings' first new series in more than a decade.
The four elder gods Dahlaine, Zelana, Aracia, and Veltan have ruled over Dhrall for eons. Every 25,000 years, the siblings pass on their duties to a quartet of young gods so that they can rest. But as the next changing of the gods approaches, the elder gods are faced with a potential catastrophe: an enemy has arisen from the vast wasteland in the center of Dhrall and is bent on conquering the entire realm and using all its inhabitants as nourishment for its minions. The Vlagh, as it is called, is a wellspring of evil, continually birthing nightmarish insectoid monstrosities to make up her army. But as the final battle looms closer, one of the elder gods begins losing her sanity. As the gods desperately search for ways to stop the Vlagh -- and rein in their unstable sibling -- heroes turn up in the unlikeliest places.
A word of warning: Fantasy fans who are looking for a truly epic fantasy saga -- like Terry Goodkind's Sword of Truth or Robert Jordan's Wheel of Time -- will not find it here. Unlike the Eddings' classic Belgariad series (Pawn of Prophecy, Queen of Sorcery, et al.), the Dreamers tetralogy is decidedly light, featuring a more intimate cast of characters, all-age-encompassing themes, and not overly complex plot threads. That said, hard-core Eddings fans should thoroughly enjoy the husband-and-wife writing duo's world of Dhrall, where the godly couple Ara and Omago are arguably extensions of the authors themselves. Paul Goat Allen