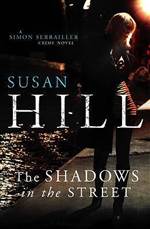 The Shadows in the Street
The Shadows in the Street (Simon Serrailler #5)

Simon Serrailler is on sabbatical on a Scottish island, recovering from an exhausting murder investigation, when he is urgently summoned back to Lafferton. Two local prostitutes have been found strangled. By the time Serrailer has reached the town, another girl has vanished. Is this a vendetta against prostitutes by someone with a warped mind? Or a series of killings by an angry punter? Then the wife of the new Dean at the Cathedral goes missing - has the killer widened their net or is there more than one murderer at large?