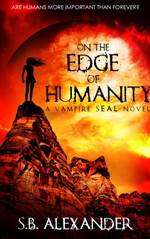 On the Edge of Humanity
Published :

December 28th 2012
On the Edge of Humanity (Vampire SEALs #1)

Sixteen-year-old Jo Mason is lost in a world where traipsing from one foster home to another is normal. She hates her life, she hates school and on most days, she hates living. If it weren't for her twin brother Sam, she may already be dead.

Her normal world shifts one hundred and eighty degrees when she discovers her own blood tastes like candy and her eyes change colors like a mood ring. On top of that, her eyesight seems to be failing when she spies an otherworldly man sporting bloodstained canines trying to strangle a cop. The developments are shrouded when Sam goes missing between Anger Management class and History class.

She's called to the principal's office to meet Lieutenant Webb London, a Navy SEAL who is part of a secret team of natural-born vampires. His mission is to protect the twins from an evil cartel, but he's too late. With Jo now under his protection, his team searches for Sam.

However, finding and rescuing Sam from the evil cartel may be the easy part. Jo learns she carries a dormant vampire gene that, if activated, could save him. As her normal world fades even more, pushing her closer to the edge of humanity, Jo must decide if her human life is more important than her twin brother.

With time as her enemy, she struggles to make a life-changing decision for both her and Sam.